Known as the "birthplace of reggae", Jamaica boasts a treasure trove of natural jewels and a colorful African vibe. Golden beaches, emerald mountains, turquoise seas, cascades, coral reefs, rainforests, rivers, and mineral springs are just some of the island's enviable assets. Not surprisingly nature lovers will find plenty of things to see and do, from hiking and birding in the jungle to horseback riding along the beach and diving colorful coral reefs. Jamaica is also renowned for its many historic plantations where visitors can sample tropical fruits and tour the grand great houses.
Montego Bay, Ocho Rios, Negril, and Port Antonio are the main tourist hubs. Visitors will find a variety of lodgings here ranging from large resorts, luxury villas, and boutique hotels to rustic guesthouses. Lively Montego Bay is one of the most popular resort towns with golf courses, restaurants, shops, galleries, and of course, hotels and resorts lining the beaches. Ocho Rios is the island's major port of call for cruise ships, while Negril is famous for its long and lazy beach lined with clear waters and coconut palms. Ecotourists love peaceful Port Antonio thanks to its proximity to the spectacular Blue Mountains. In Kingston, Jamaica's edgy capital, visitors can tour reggae legend Bob Marley's former home and explore the city's museums and historic sites. Jam-packed with diverse attractions, no wonder Jamaica enjoys a reputation as a Caribbeanhotspot.
1 Negril Beach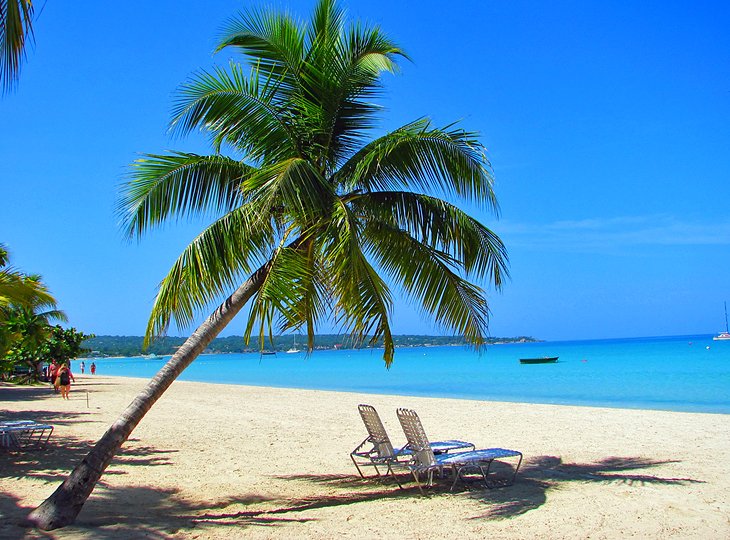 Also known as Seven Mile Beach, Negril Beach is one of Jamaica's most beautiful stretches of white sand and aqua sea. The beach extends from Bloody Bay to Long Bay and the Negril Cliffs south of town. Tucked within groves of coconut palms, many resorts and restaurants fringe the shore here. Water sports abound, and snorkelers will find schools of fish swimming in the clear waters. Be prepared for persistent hawkers prowling the beach.